Naval Gun Battery Socoa West
Construction of the artillery battery called Socoa West started in spring 1941, 6 km. east of the border with neutral Spain.
On top of the cliffs, west of the town of Saint-Jean-de-Luz, the Kriegsmarine (German navy) installed a gun battery comprising four 155 mm. guns. These guns were French, having been captured by the Germans, and had a range of almost 20 kilometres.
In 1943 the Germans began casting all the necessary bunkers: as well as two gun bunkers (M170), the battery included a large command bunker (M162a) and a bunker (R612) for a 76.2 mm. anti-tank gun. This last gun was to used to defend the eastern flank and today it remains intact in the forest. The Command bunker is beside the main road but coastal erosion has caused the two gun bunkers to collapse onto the beach.
One of the gun barrels is now on display beside the command bunker.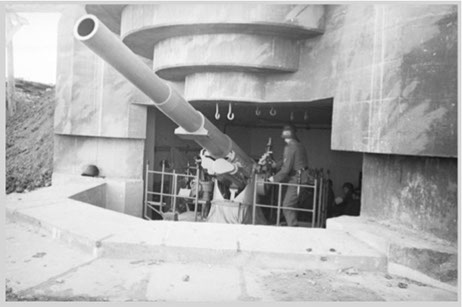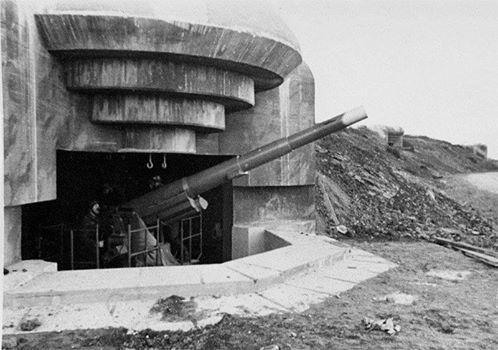 " Behind this battery in the woods is very interesting. I have been detecting here for some years now. Through the woods and into the field beyond are the remains of several defensive positions. In the woods themselves I have found small gauge railway tracks, and managed to exhume a buried flamethrower intact (without setting off its booby trap!!). I have pics if interested. This must have been a massive complex, but sadly it is all but destroyed. I think here a massive ammo dump went up as well. There is a huge crater in the wooded area filled with bamboo growing 6-8 meter ( 18-25 feet ) tall. It's not generally noticeable without some serious exploration though. If you would be interested in pics and more info please let me know. Regards from England. "
John