V2 base Kraftwerk Nordwest KNW
In April 1943 the Germans took control of an area in Manche. The site, which used to be an underground oil depot for the French Navy, was chosen to be home to a secret V-2 rocket base code named Kraftwerk Northwest.
Some 3500 French slave laborers worked in two 12 hours shifts to construct the large bunker. The Allies, aware of the large construction project, determined that the site was important due to the stringent security measures in place. In response, it was including in the list of targets for Operation Crossbow, a strategic bombing campaign aimed at disrupting the production of high tech German weapons. The first raid hit the site before it was operational in August 1943.
The bombing had the desired effect: the Germans decided to move the V-2 facility to the nearby La Coupole base. The bunker in Eperlecques was chosen to produce the V-2's fuel (liquid oxygen).
One month after the Normandy landings in the summer of 1944 the area was liberated by the Allies. The bunker was discovered by ground troops, and was visited by both Winston Churchill and Dwight D. Eisenhower.
Today the bunker is a museum.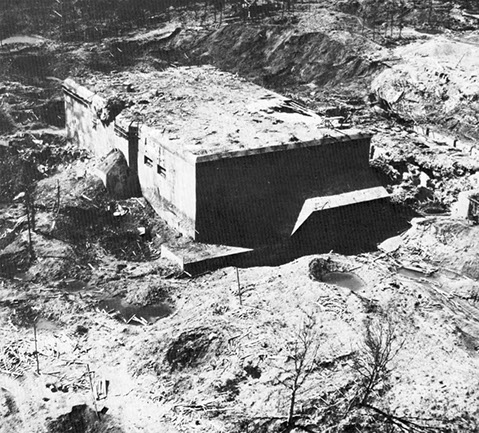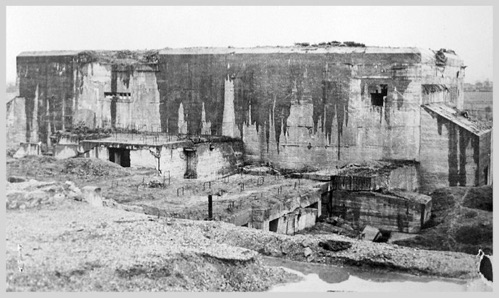 " This is of interest to me as I am an ex service man in the Royal Navy. I submitted a comment concerning the gun batteries on the French coast, and comming under attack from them. This occurred about August 1944 just after leaving Arromanches after D-day. Having read the information about the various V2 launch sites, I recall that my ship HMS Ariistocrat was the first ship into Antwerp where we patrolled the Schelted attempting to destroying V1 Buzz Bombs, or divert from the target Antwerp.
Subsequently the V2 Rockets began to fall on Antwerp, for which there was no defense. A great many fell more than London I believe. I remember we could observe the vapour trails they made from launch the short trail for London the long for us, then we waited! An awful weapon of destruction. "
Lawrence J Rand