Rostock og Warnemünde
Rostock og Warnemünde ved den tyske del af Østersøen, var et yndet mål for luftangreb gennem hele krigen. Byens placering gjorde den let at finde og udpege. Den havde krigsvigtig industri, blandt andet Heinkel flyfabrikkerne og sidst, men ikke mindst, var byerne et vigtigt transitpunkt for tyskernes forbindelse til Danmark og Norge.
Det første mindre luftangreb var allerede i juni 1940, et mere i juli 1940 og i april 1942 fulgte fire store angreb. 4 nætter i træk med deltagelse af 161, 125, 128 og 106 bombemaskiner. Målet var bymidten og Heinkel fabrikken i den sydlige del af byen.
Allerede i maj 1942 fulgte endnu et angreb, her deltog 193 bombefly i et angreb på Arado flyfabrikken i Warnemünde. Der var yderligere angreb i oktober 1942, april 1943, juli 1943, april 1944 og det sidste i august 1944.
Den tyske marine byggede i 1943 en mandskabsbunker på havnen i Rostock. Den var af typen LSB1400 og kunne yde beskyttelse for 1400 personer.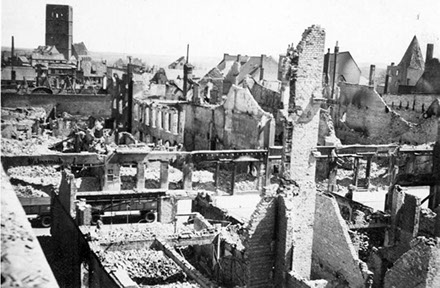 " My grand mother was in rostock camp, taken from urss. Crying about hers friends dying during air attacks when she talked to me about it. Since this, she hates tulip, because there were tulips in front of one of a barracks blowed off with hers jews friends in it.
When the soviet were liberating the camp she talked in german to the soldier and never said she was russian. She left to france with my grand-father, he were here because of the STO. "
Nicolas
" Thank you for the information. My mother had to flee Warnemunde with her mother and siblings in 1945 as the Soviets were about to invade. They managed to get on a boat which took them to Flensburg where they stayed in a refugee camp for two years. My grandmother met an English sailor while she was in the camp. He asked her to come to England . They married and lived happily and very contented in a Northumberland village. "
Rossmannek
" I was born in Rostock on April 14,1941. My sister was 3 years old. My father was serving as a German war soldier. I cannot imagine what she and my mother experienced. The bombing of this civilian city was inhumane. I am now a US citizen and have proudly served in the United States Navy on the SS525 US Grenadier submarine during the Cuban crisis. To this day I do not enjoy fireworks of any kind and resent the anguish caused to innocent pets who cannot handle it either. It is a deep psychological pain. "
Roland Baran