Rostock und Warnemünde
Rostock und Warnemünde, an der deutschen Ostseeküste gelegen, waren ein beliebtes Ziel für Luftangriffe während des gesamten Krieges. Die Orte waren aufgrund ihrer Lage leicht zu finden und bildeten gleichzeitig Standorte kriegswichtiger Betriebe, darunter das Heinkel-Flugzeugwerk. Darüber hinaus waren die Städte eine wichtige deutsche Durchgangsstation für Verbindungen nach Dänemark und Norwegen.
Die ersten Luftangriffe erfolgten bereits im Juni 1940, ein weiterer erfolgte im Juli1940 und im April 1942 gab es in vier aufeinander folgenden Nächten vier schwere Angriffe, an denen 161, 125, 128 und 106 Bomber beteiligt waren. Ziel dieser Angriffe waren die Innenstadt und das Heinkel-Werk im südlichen Teil der Stadt.
Im Mai 1942 folgte wieder ein Luftangriff, diesmal mit 193 Bombern, der den Arado-Werken in Warnemünde galt. Weitere Angriffe erfolgten im Oktober 1942, im April 1943, im Juli 1943, im April 1944 und der letzte schließlich im August 1944.
1943 errichtete die Kriegsmarine im Hafen von Rostock einen Truppenmannschaftsbunker T750 vom Typ LSB1400 Schutz, der 1.400 Personen Schutz bieten konnte.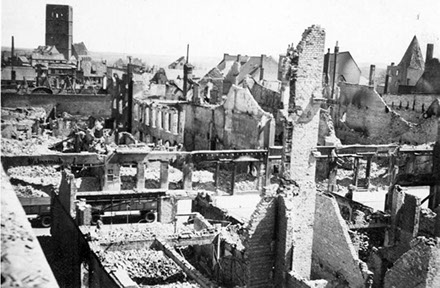 " My grand mother was in rostock camp, taken from urss. Crying about hers friends dying during air attacks when she talked to me about it. Since this, she hates tulip, because there were tulips in front of one of a barracks blowed off with hers jews friends in it.
When the soviet were liberating the camp she talked in german to the soldier and never said she was russian. She left to france with my grand-father, he were here because of the STO. "
Nicolas
" Thank you for the information. My mother had to flee Warnemunde with her mother and siblings in 1945 as the Soviets were about to invade. They managed to get on a boat which took them to Flensburg where they stayed in a refugee camp for two years. My grandmother met an English sailor while she was in the camp. He asked her to come to England . They married and lived happily and very contented in a Northumberland village. "
Rossmannek
" I was born in Rostock on April 14,1941. My sister was 3 years old. My father was serving as a German war soldier. I cannot imagine what she and my mother experienced. The bombing of this civilian city was inhumane. I am now a US citizen and have proudly served in the United States Navy on the SS525 US Grenadier submarine during the Cuban crisis. To this day I do not enjoy fireworks of any kind and resent the anguish caused to innocent pets who cannot handle it either. It is a deep psychological pain. "
Roland Baran