Støttepunkt Pointe Du Hoc
Som en del af Atlantvolden, anlagde tyskerne et kanonbatteri på toppen af skrænterne ved Pointe Du Hoc. Kanonbatteriet var bevæbnet med seks 155 mm. kanoner. Efter et kraftigt allieret bombeangreb i april 1944, besluttede chefen for tyskernes invasionsforsvar Erwin Rommel, i erkendelse af at batteriet var blevet lokaliseret af de allierede, at flytte kanonerne længere ind i landet.
Dette vidste de allierede imidlertid ikke, og da batteriets placering bevirkede, at det under den kommende invasion, både ville kunne beskyde amerikanerne på "Omaha" og "Utah" strandene, blev det besluttet, at kanonbatteriet skulle nedkæmpes tidligt om morgenen på D-dag.
Planen var at 225 amerikanske marineinfanterister fra stranden, skulle trænge op af de stejle klinter og angribe batteriet, inden landgangen på stranden begyndte.
Hele operationen blev indledt d. 6. juni 1944, med et massivt kombineret luft- og flådebombardement.
Efter en del navigationsproblemer startede amerikanerne med stiger og reb at bestige klinterne, samtidigt med at tyskerne på toppen forsøgte at slå angrebet tilbage. Amerikanerne nåede efter svære kampe og mange tab, omsider frem til kanonstillingerne. Her kunne de til deres store overraskelse konstatere, at kanonerne var blevet fjernet.
De næste to døgn angreb tyskerne flere gange området for at tilbageerobre Pointe du Hoc, men amerikanerne holdt ud og da der endelig kom forstærkninger frem, kunne de 90 tilbageværende soldater endelig få et tiltrængt hvil.
Pointe du Hoc er i dag åbent for publikum.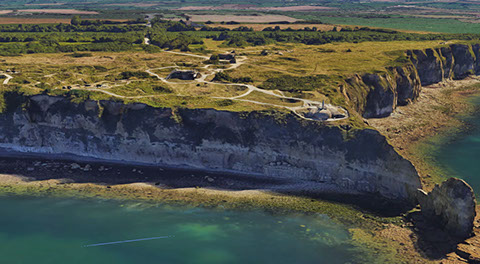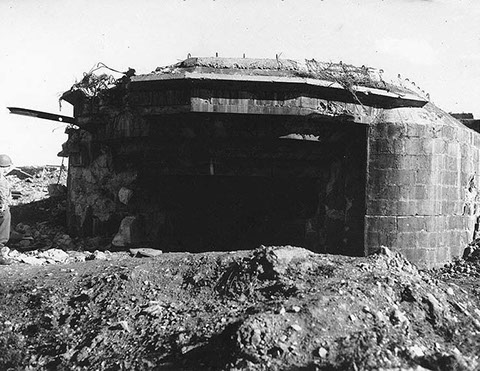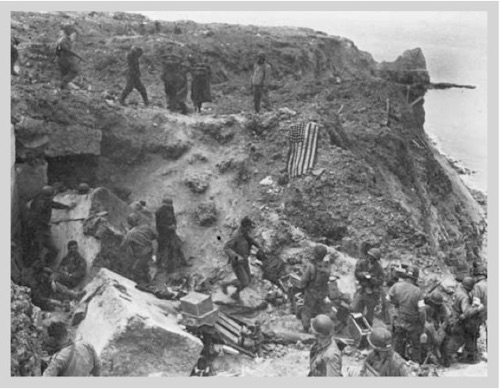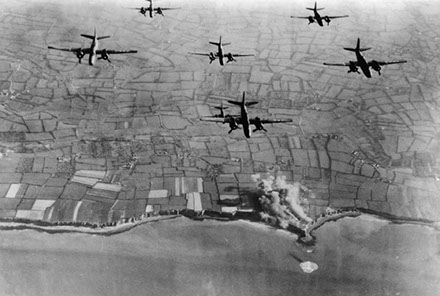 " Many don't know about the 2 paratroops of I-506th PIR, 101st Airborne that were already there, Leonard Goodgal and Raymond Crouch. These were 2 of 4 men that were able to parachute from a C-47 that had been hit and was on fire. Unfortunately, the rest of the troopers and air crew went down in the channel and are still there. Leonard placed the U.S. flag so the ships would stop firing at them. Rudder gave him paperwork recommending he receive a Silver Star. But when he returned to the 101st, his Lt didn't believe how he and Crouch were with the Pt du Hoc Rangers and ripped up the paper. Leonard saved the Eisenhower letter he got prior to departure and still has it. On the Back he went around to many of the rangers and had them sign their names and where they were from, unit, etc.. I saw the letter. I also had met a lady in the town of Trevieres that saw the a/c on fire and the chutes deploy that night. "
Tim
" A friend of my father was accidentally on the Pointe du Hoc attack. The driver of his landing craft misjudged the current and instead of landing his forces a mile up the beach he dropped the ramp at Point du Hoc. Those troops were forced to go up the cliffs with the Rangers who had trained for this invasion. This hero died just this year. When he talked about his D-Day experience on the first wave he always shed tears. But he did say the guys from his landing craft always kidded the Rangers about how the Rangers had trained so hard to invade Pointe du Hoc but their guys went right up with them. "
Don Hartley
" Visited this site in May, 2012 and it remains pretty much as it was in June, 1944. You are taken back in history standing next to a German gun bunker and looking out across the Channel. Hard to imagine the carnige that took place on that date. The site around it is covered with deep shell holes and destroyed bunkers. Some remain intact. "
Jim S.