Naval Gun Battery Dietl
The construction of Battery Dietl began in 1942 on Engeløya Island in Norway. The battery was strategically located on the island's northwestern corner, with views across the West Fjords. This battery would defend the western entrance to the main port of Narvik. A similar battery was placed on the Trondenes Peninsula in order cover the northern entrance to the port. The building was organized by the Organization Todt and the labor force was made up of 2.000 Russian prisoners of war. The gun battery consisted of three 406 mm. Adolf guns. These guns were able to launch a 1300 pound projectile 34 miles. The standard shell weighed 2200 pounds, with a range of 26 miles. The gun barrels were 70 feet long, and each one would last between 250-300 shots before needing replacement.
The guns were operational in August 1943, but construction work at the battery continued throughout the war. It is estimated that about 500 Russian prisoners of war perished during the hard work.
The battery was named after General Eduard Dietl, who have command of the 3rd German Mountain Division, during the German invasion of Norway April 9, 1940 (Operation Weserübung). General Dietl died in the summer of 1944 in a plane crash in Austria.
After the war the guns were dismantled and sold as scrap. The whole area was allowed to decay, but today there is a museum in one of the old pillboxes.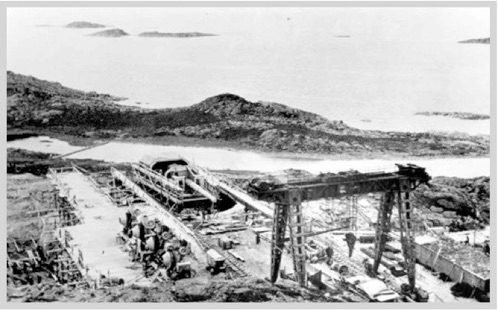 " I visited Engeløya and the battery about 1996. It's pretty much a scrap heap although the circular foundation for the huge gun can be seen clearly. Also, some air defense batteries on top of the ruined area. I was informed that one of the huge guns fell overboard when it was sold for scarp to the Hovding company. It's a shame - but perhaps they can rescue that cannon from the sea and resurrect it.
It must have been a most important piece of artillery.
Also, I visited the monument to all the Russian prisoners of war who died while constructing this battery.
Otherwise, Engeløya is a "nature's wonderland". I cannot recommend enough a visit. I stayed at a rented "Hytte" that was all right for a night or two. " S.E. Skoug