Naval Gun Battery Cap Breton
The Germans began construction of this gun battery in 1943 as part of the Atlantic wall. It consisted of four 105 mm. guns that were each mounted in separate casemates. A fire command bunker was located between the two central guns, while the crew and ammunition bunkers were located behind. Several pillboxes defended the site.
This Kreigsmarine (Navy) battery was built to protect the port of Cap Breton, and was located in the first row of sand dunes near the beach. Due to erosion, most of the bunkers are now located either in the water or directly on the beach.
Gun batteries built by the Kreigsmarine (Navy) and Heer (Army) had different purposes. Those built by the Kreigsmarine were generally placed close to the coast so that they could engage enemy warships. The Army batteries, however, were usually placed inland so as to provide fire support to defending German troops. The Army had more experience with attacking enemy forces on land and their guns were not suitable for moving warships.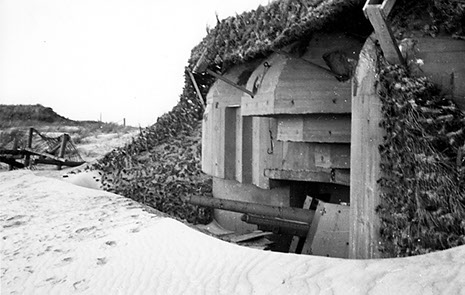 " Impressed to see the pic you posted of a casement at 'Cap Breton' near Hossegor. As you can see these days (and for many years now) all that remains is on the beach in pieces. As a regular surfer here I was always eager to see some shots of how it was looking when the buildings were still there. Unfortunately these appear to be a bit rare. Thanks. Kind regards from England. John. "